Horno de circulación de aire 12 en 1, Airfryer 1800W XXL -12L | BronKitchen©
---


Buy now and you receive it in 2 - 5 days
PRODUCT DESCRIPTION
---
Horno de circulación
de aire 12 en 1
Fríe, Asa, Hornea, Gratina y Mucho Más
¡Todo con un Solo Electrodoméstico!
Fácil visibilidad de lo que está cocinando gracias al cristal transparente
Programas de cocción predeterminados
Hasta un 80% menos de calorías
Cocine de forma saludable con poco aceite y bajo en grasas
Apto para lavavajillas
Prepare Deliciosas Comidas con Facilidad
Con el Horno Airfryer Just Perfecto, puede preparar comidas deliciosas con facilidad.
La tecnología de circulación de aire caliente asegura una circulación óptima del aire para mantener todos sus platos crujientes por fuera y jugosos por dentro.
Fría las mejores papas fritas, verduras, pescado, pollo y más con uno de los 12 programas preestablecidos.
Además, ¡cocinar nunca ha sido tan fácil con los accesorios incluidos!
✅
Disfrute de comidas deliciosas y más saludables con poco o nada de aceite
✅
Prepare una comida completa en el Horno Airfryer gracias a los tres estantes para hornear incluidos
✅
Fácil de usar y limpiar con accesorios aptos para lavavajillas y protección contra sobrecalentamiento
Horno Airfryer 12 en 1: es mucho más que un horno de aire.
Ya sea que sea un cocinero experimentado o un principiante en la cocina, el Horno Airfryer Just Perfecto mejorará su juego de cocina.
La pantalla digital facilita la selección de la temperatura y el programa adecuados, y con un temporizador ajustable de hasta 90 minutos, puede continuar con su día mientras el horno hace todo el trabajo.
Razones por adquirir este Horno:
Cocine de forma saludable con poco aceite y bajo en grasas
Disfrute de una variedad de opciones de cocción con 12 programas preestablecidos
Prepare una comida completa con los tres estantes para hornear incluidos
Pantalla digital fácil de usar y temporizador ajustable
Protección contra sobrecalentamiento para mayor seguridad
Accesorios aptos para lavavajillas para una fácil limpieza
Revestimiento antideslizante y antiadherente para mayor comodidad
Diseño de acero inoxidable para una apariencia elegante en su cocina
1800 vatios de potencia para cocinar rápido y eficiente
Función de asador para pollo cocido a la perfección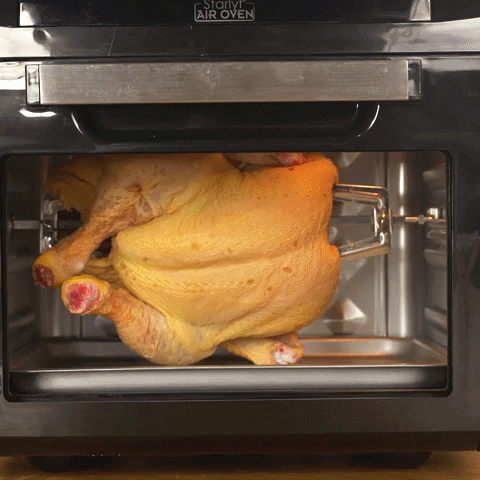 Prepara bocadillos simples hasta tus comidas favoritas más laboriosas…
Horno de circulación de aire 12 en 1 te permite cocinar de diferentes formas con poco aceite y aun menos grasa.
¡No te arrepentirás!
Características técnicas:
| | |
| --- | --- |
| Color: | Negro |
| Material: | Revestimiento antiadherente |
| Potencia: | 1800 W |
| Capacidad: | 12 litros |
| Temporizador: | 0-90 minutos |
| Temperatura de cocción ajustable: | 80-200°C |
| Programas de cocción preestablecidos: | 12 |
| Circulación de aire: | De calentamiento rápido a 360° |
| Protección contra sobrecalentamiento: | Sí |
¿Qué incluye la oferta?
Horno de circulación de aire 12 en 1, Airfryer 1800W XXL -12L | BronKitchen©
Bandeja para hornear
3 rejillas para asar
Asador
Cesta para asador
Mango para asador
Manual
AHORRA 110€
149,90€

   

260,00


+

Envío GRATIS
Comprar ahora
¿Qué opinan nuestros clientes?
---
Es fácil de usar y limpiar, y la comida siempre sale perfecta.

Silvia R.
Desde que tengo este horno de aire ya no uso el horno tradicional, todo lo cocino en él de forma rápida y mucho más saludable. Totalmente recomendable en relación calidad precio.

Manuel F.
Es justo lo que estaba buscando, no me ocupa mucho espacio y me permite cocinar todo lo que quiero. Estoy encantada con la compra. Lo recomiendo 100%.

Maria D.
100% safe payment form at your disposal
Your payment information is processed safely. We do not store credit card information and we do not have access to your credit card information.
---
Security