Masajeador intensivo del cuello, hombros, brazos y cuerpo Negro / gris | BronRelax©
---


Buy now and you receive it in 2 - 5 days
PRODUCT DESCRIPTION
---
Experimente un Alivio Profundo y Relajación en Casa con el Masajeador Intensivo BronRelax™
¿Alguna vez ha sentido que necesita un descanso urgente después de un largo y agotador día? La tensión en el cuello, los hombros, los brazos y el cuerpo puede afectar significativamente su bienestar. Es hora de liberar esa tensión y sentirse renovado. Presentamos el Masajeador Intensivo BronRelax™, su compañero perfecto para aliviar el estrés y relajar su cuerpo.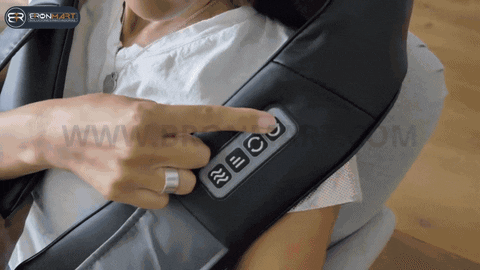 El estrés y la tensión son problemas comunes en la vida moderna. La fatiga acumulada puede causar molestias en el cuello, los hombros y el cuerpo, lo que afecta su calidad de vida y su salud general.
Respaldado por la tecnología más avanzada en masaje y relajación, BronRelax™ es la elección preferida por expertos en bienestar.
La vida agitada y las largas horas de trabajo pueden generar estrés crónico y dolores musculares. Las soluciones tradicionales como las visitas a un spa pueden ser costosas y consumir mucho tiempo.
El Masajeador Intensivo BronRelax™ está diseñado para brindarle un masaje profundo y relajante en cualquier momento y lugar. Su diseño ergonómico en forma de U se adapta perfectamente a su cuerpo. Con 12 nodos de masaje de amasamiento profundo y rotación bidireccional, este dispositivo genera un calor suave que alivia los músculos, brindando una sensación de relajación.
Beneficios Destacados:
Alivia el estrés y la tensión acumulados durante el día.
Mejora la circulación sanguínea para aliviar dolores en el cuello, hombros y piernas.
Ajusta la presión y llega a áreas difíciles de alcanzar con las correas flexibles.
Portátil y fácil de transportar, úsalo en cualquier lugar.
Fabricado con materiales duraderos y suaves para tu comodidad.
Especificaciones Técnicas:

Colores disponibles: Beige, Naranja y Negro, Gris
Materiales: ABS, cuero de PU y tela de malla
Voltaje nominal: DC12V
Potencia nominal: 24W
Frecuencia nominal: 50Hz
Dimensiones del producto: 41 cm x 20 cm x 18 cm
Dimensiones de la caja: 91 cm x 43 cm x 41 cm
Peso de la caja: 1,9 kg
Número de piezas en la caja: 10
No deje que el estrés y la tensión controlen su vida. Con BronRelax™, puede disfrutar de momentos de relajación y rejuvenecimiento siempre que lo desee. Invierta en su bienestar hoy mismo.

No espere más para experimentar la relajación que merece. ¡Haga su pedido de BronRelax™ ahora y descubra el alivio que su cuerpo necesita!
100% safe payment form at your disposal
Your payment information is processed safely. We do not store credit card information and we do not have access to your credit card information.
---
Security